The Basset Hound Club of Southern California, Inc. holds up to two matches each year. They are usually in the spring and/or fall but can be changed due to the availability of puppies. Our events are AKC Sanctioned B Matches that are open only to basset hounds. The match advertising for each match mentions the specific details on entries. Our matches usually include competition for veteran bassets (age 6and older) as well as puppies and young adults.
Matches are a great event for those who are new to the club and/or showing. They are much more informal than regular dog shows. Visitors can easily meet the breeders and owners. They can see what the breeders have produced recently and see some of the great veteran basset hounds owned by our members.
Since matches are for puppies they can be very comical. We never know what puppies will do. Besides they are all very cute.
Judging at matches is based on the written AKC Standard for basset hounds. The link at the right will take you to the AKC Standard for Basset Hounds.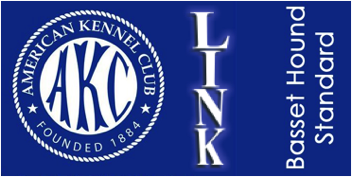 The following link is to the map and directions for Hacienda Park in La Habra Heights, CA which is the site of many of our meetings and events.
The next match will be announced here as soon as the information is available.
IMPORTANT FOR ALL PARTICIPANTS TO REMEMBER